Regular price
M.R.P
₹295
Sale price
₹295
Unit price
per
(Inclusive of all taxes)
Tames Frizz and Dryness
Helps Manage and Style hair​
Softens and adds shine to your hair​
Moisturizes without being oily​ ​ ​
Generic Name: Hair Serum
Country of Origin: INDIA
Marketed by: Zed Lifestyle Pvt. Ltd., 711, Shapath V, S.G. Road, Prahlad Nagar, Ahmedabad, Gujarat – 380015
Manufacturer:R.I. Ayurveda Research Labs 36/3-A & 36/3-B, Dilshad Garden, Industrial Area, G.T. Road, Delhi- 110095, India
Best Before: 730 Days from date of manufacture
Check estimated delivery date
How To Use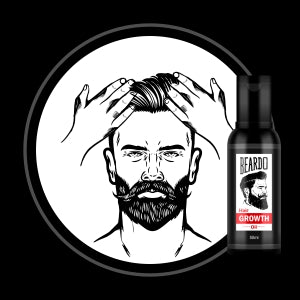 Step 1​
PRE WASH – Use Beardo GROWTH OIL to stimulate hair follicles ​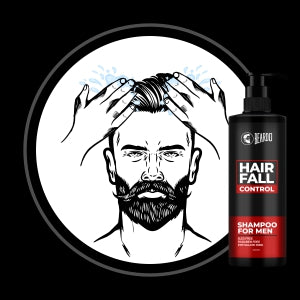 Step 2
Use the Beardo HAIR FALL SHAMPOO to wash out ​
STEP 3
Massage the scalp with Beardo Hair Serum to get the blood flowing​
Step 4
Style it with hands or Beardo Sheesham Wooden Comb. You're ready to shine.​
Frequently Asked Questions
How do I apply it? ​
Hey Beardo, take a few drops in your hand and rub the argan oil serum into your hair ​
Can it be used for hair and beard? ​
No, this product is meant only for your Hair. ​
Is this applied on wet hair or dry hair? ​
You may apply this on wet or dry hair but we recommend you apply on dry hair for best results. ​
Does it reduce hairfall? ​
No, The BEARDO HAIR SERUM With Argan Oil is used for hair Serum specially formulated to fights graying for hair and make your hair strong, smoother and shinier. We recommend keep store in Cool & Dry place.​
INGREDIENTS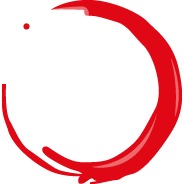 Argan Oil
- Prevents dryness​ - Reduces frizziness​ - Boosts Shine​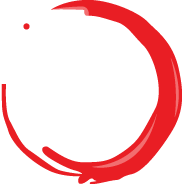 Almond Oil
- Moisturizes Hair - Repairs damaged hair fibre​ - Improve hair texture ​ - Improve hair texture
View full details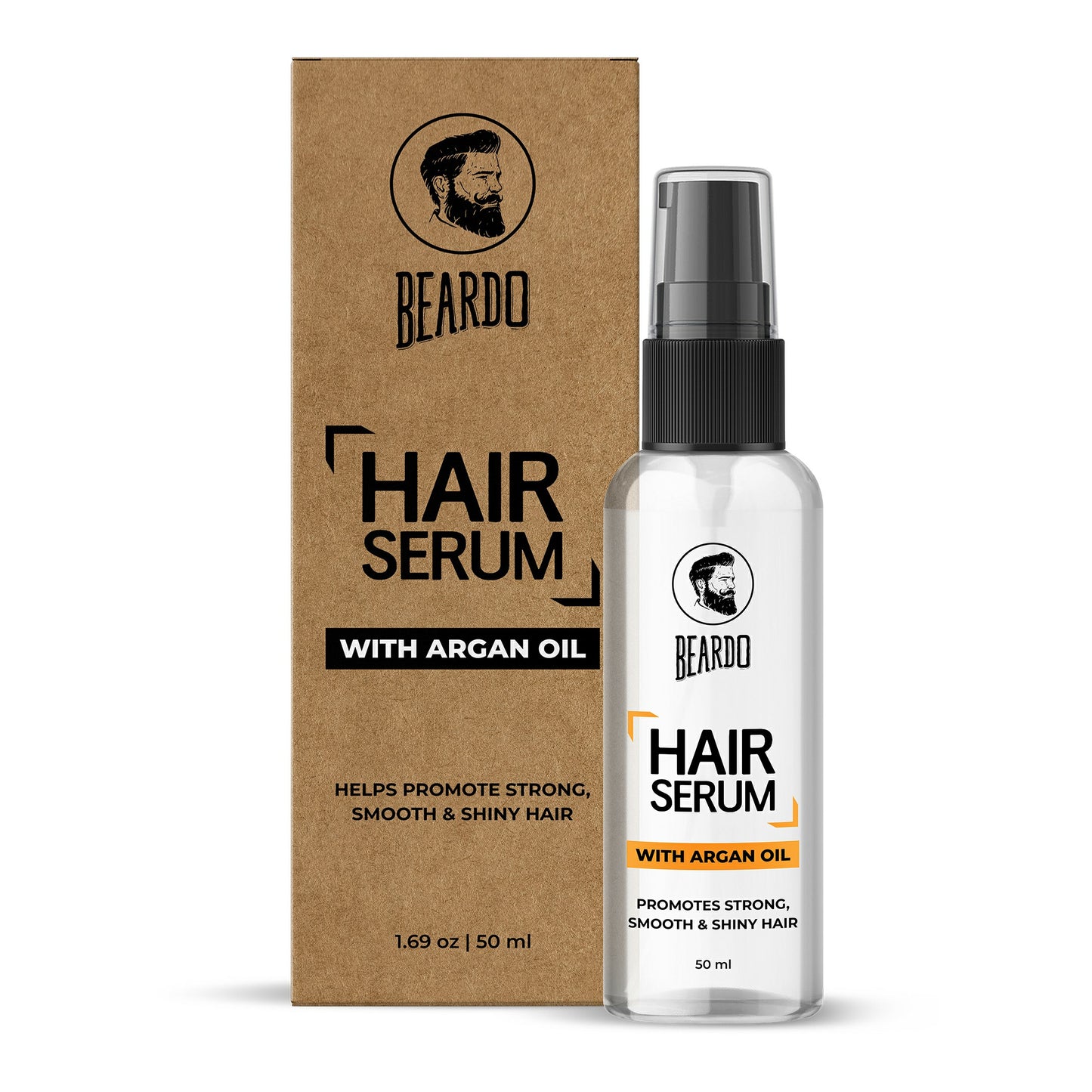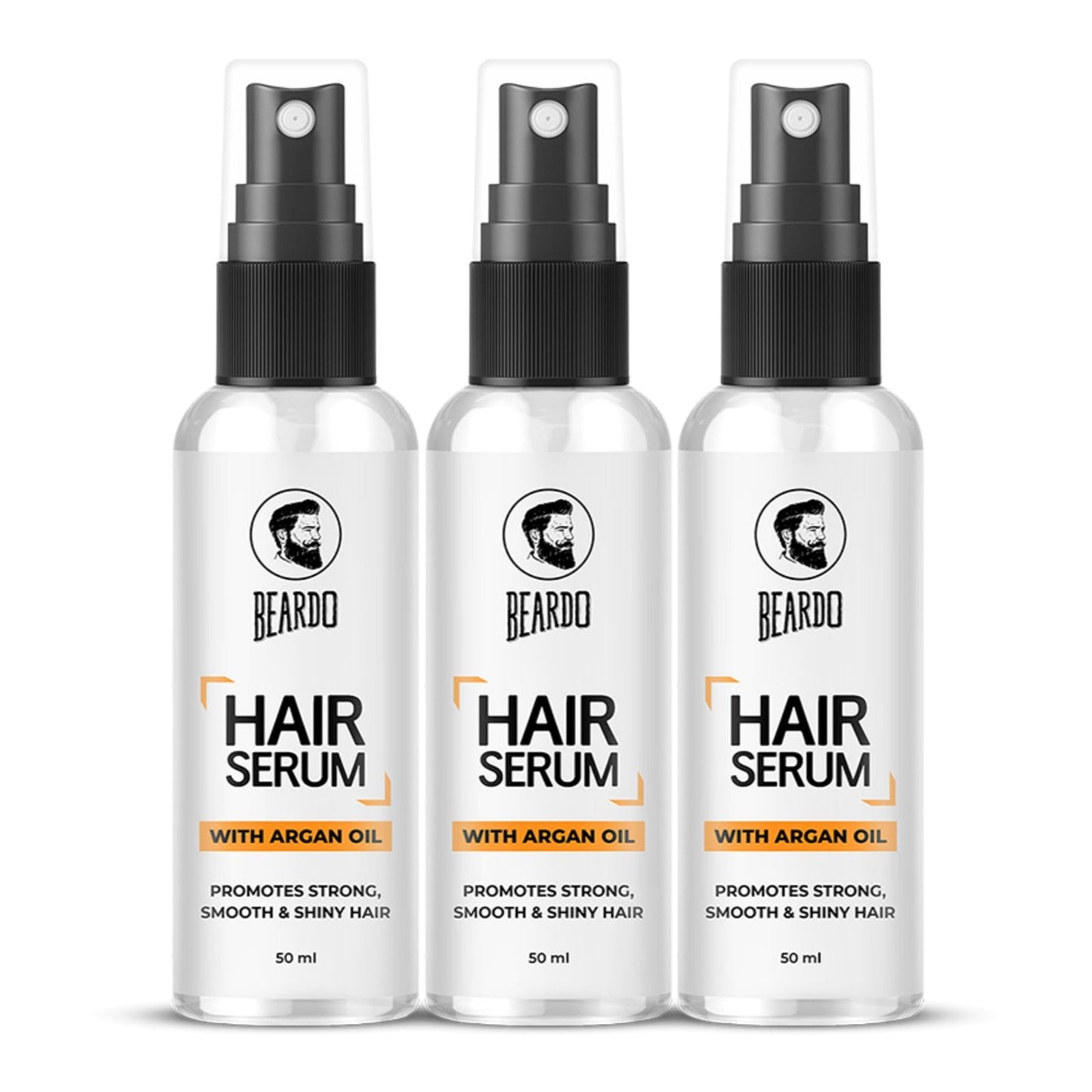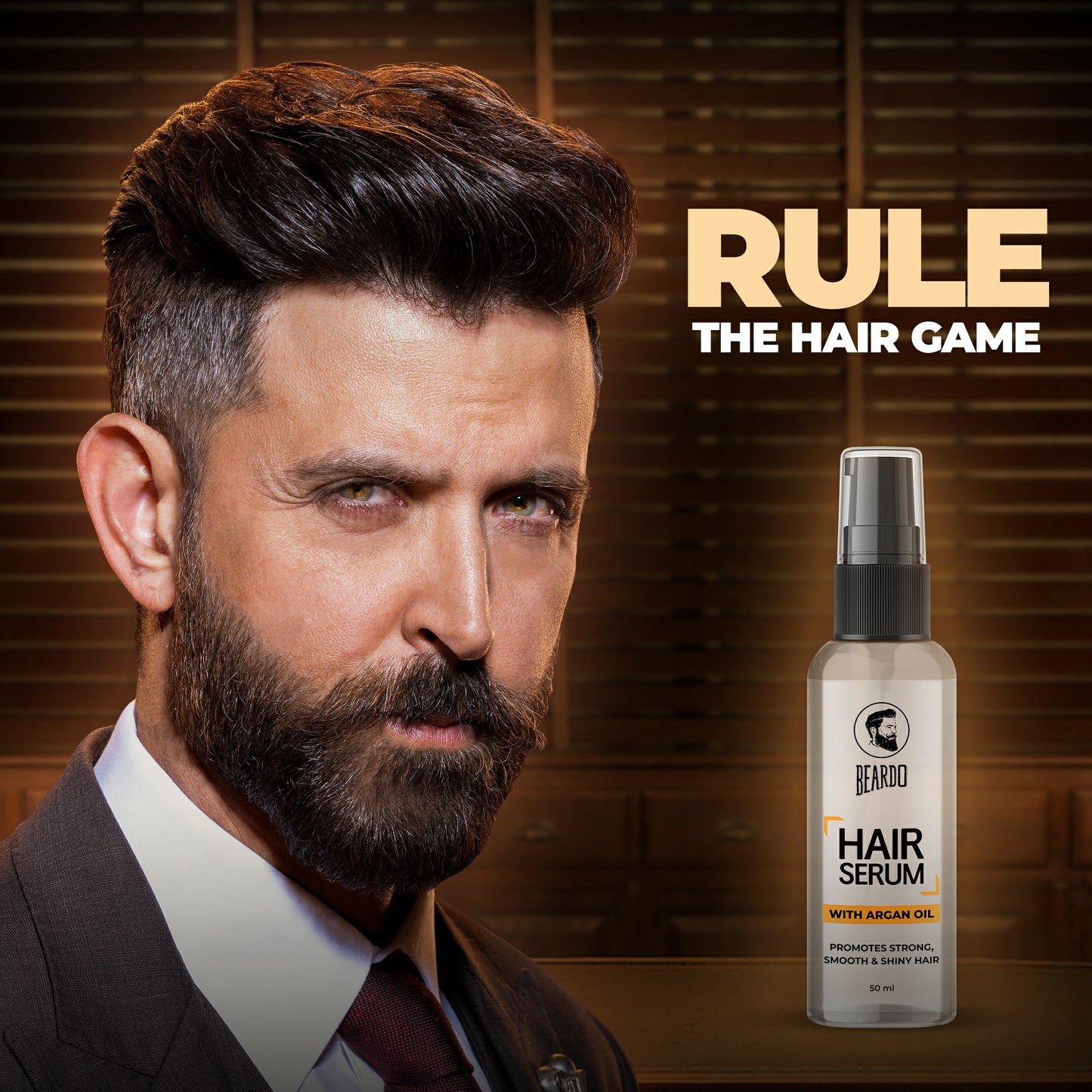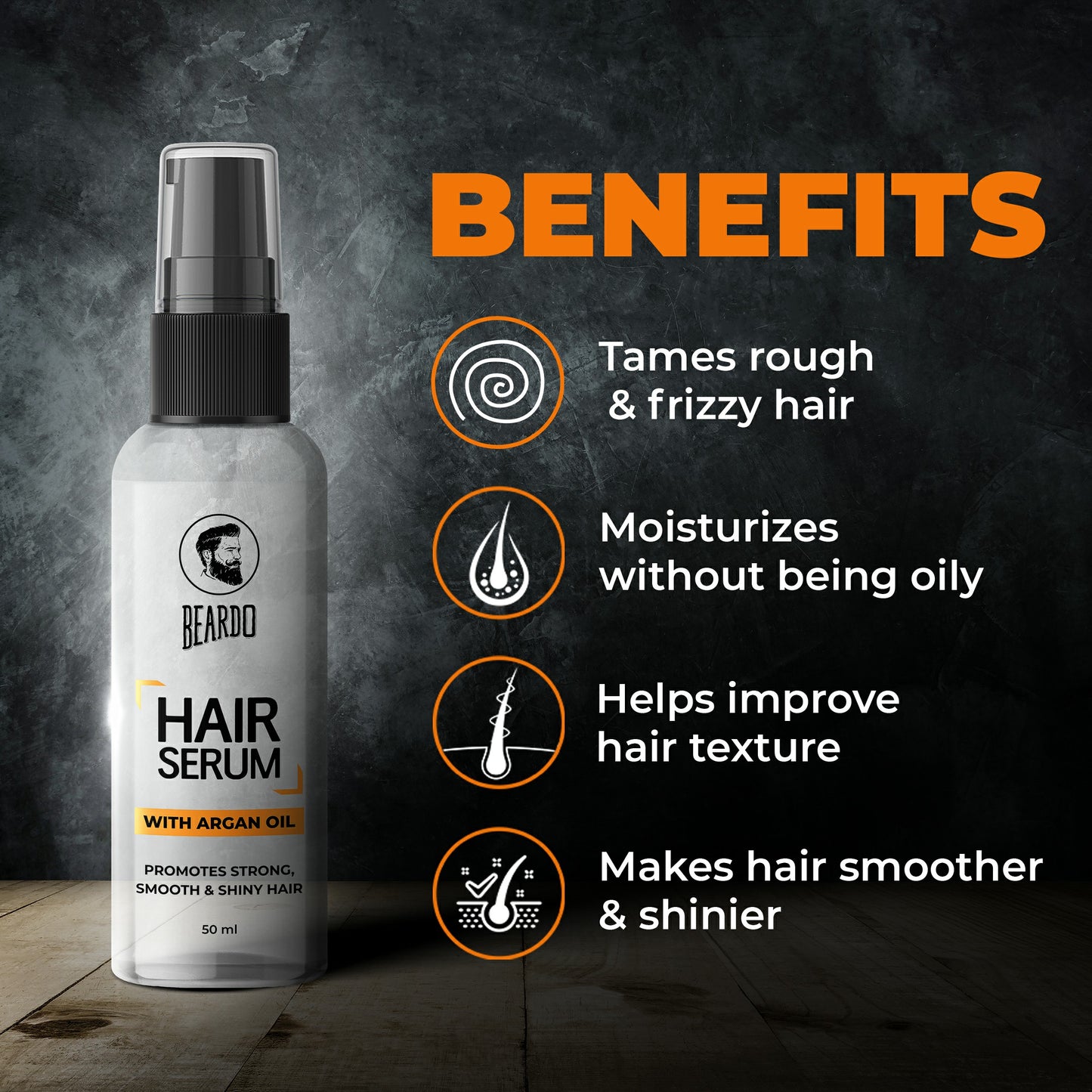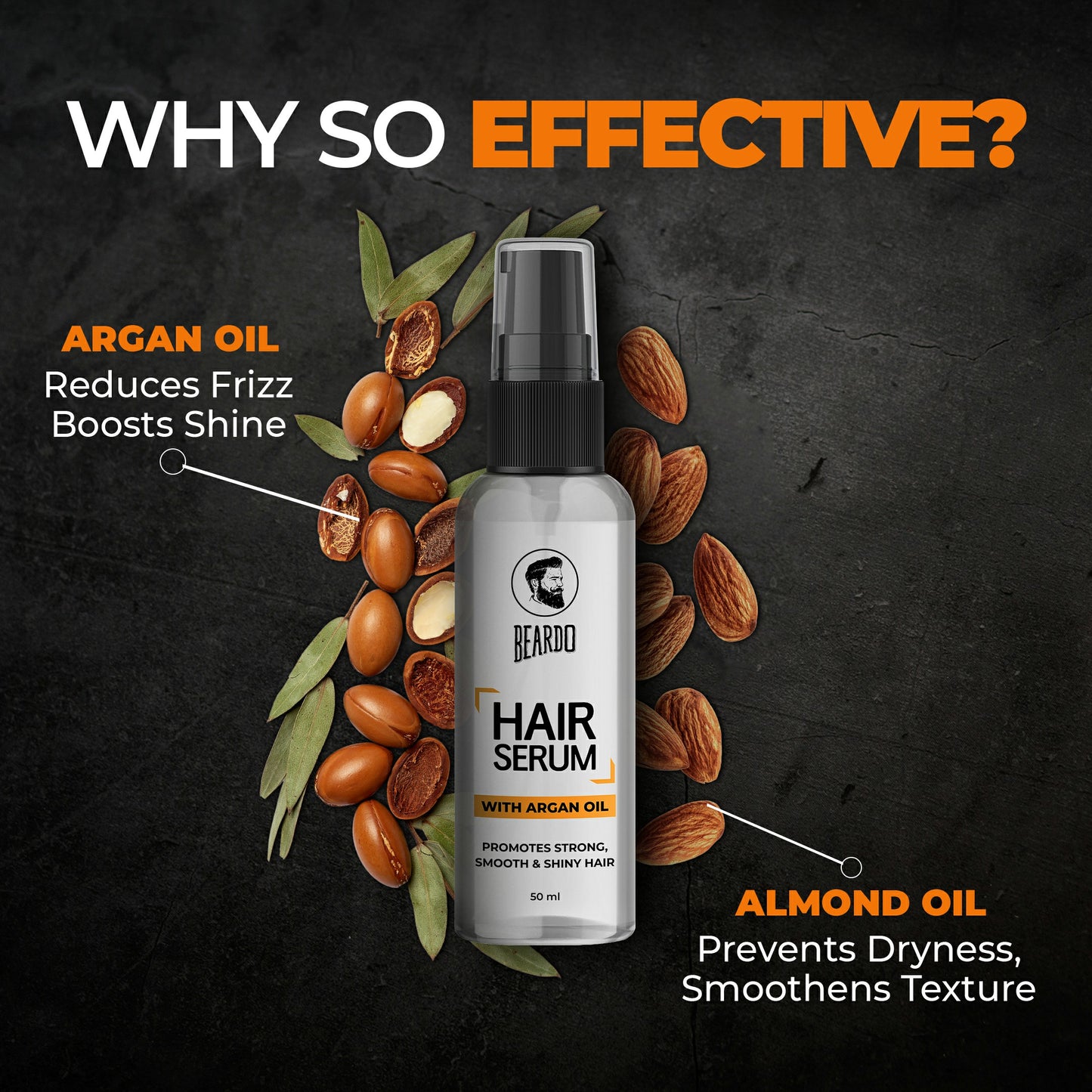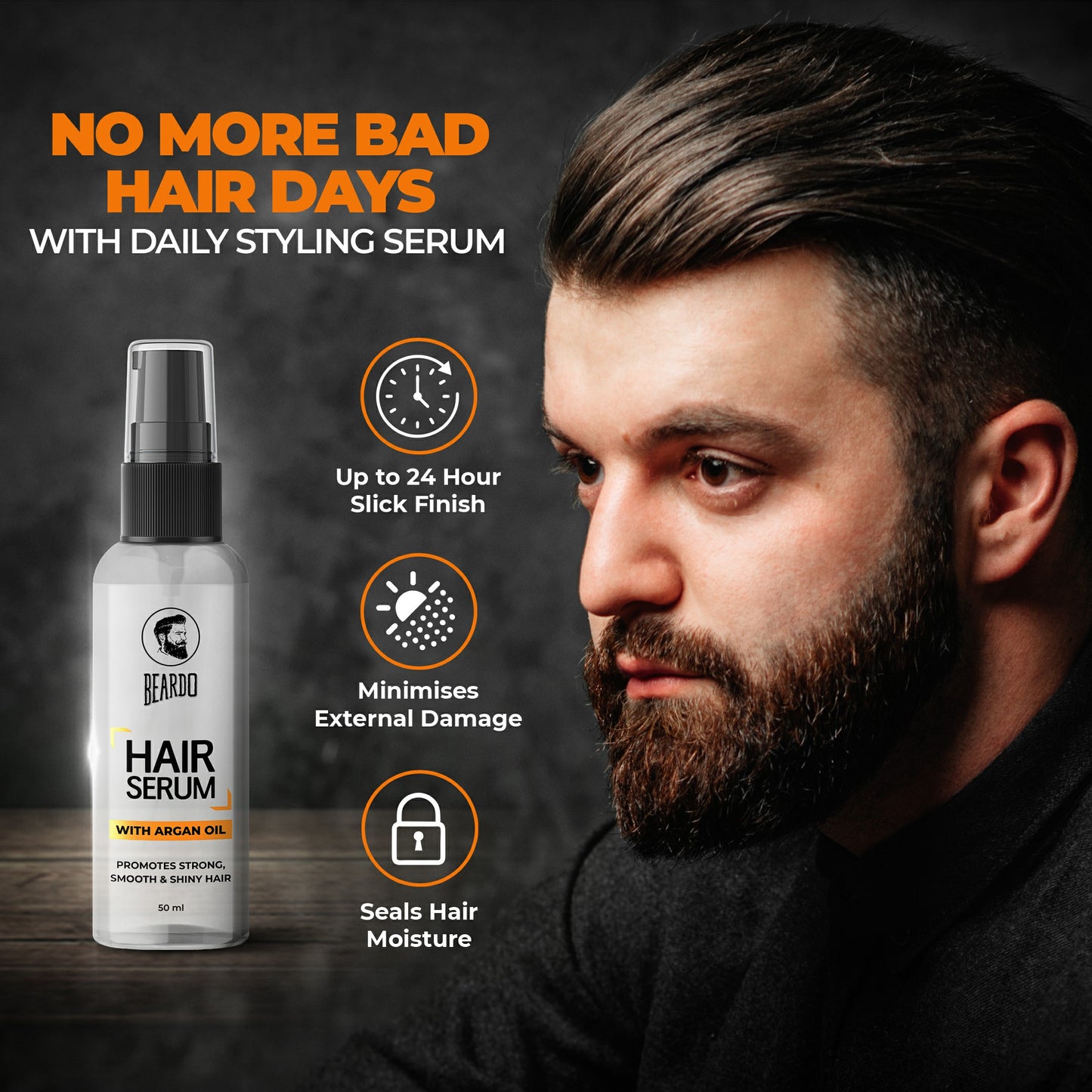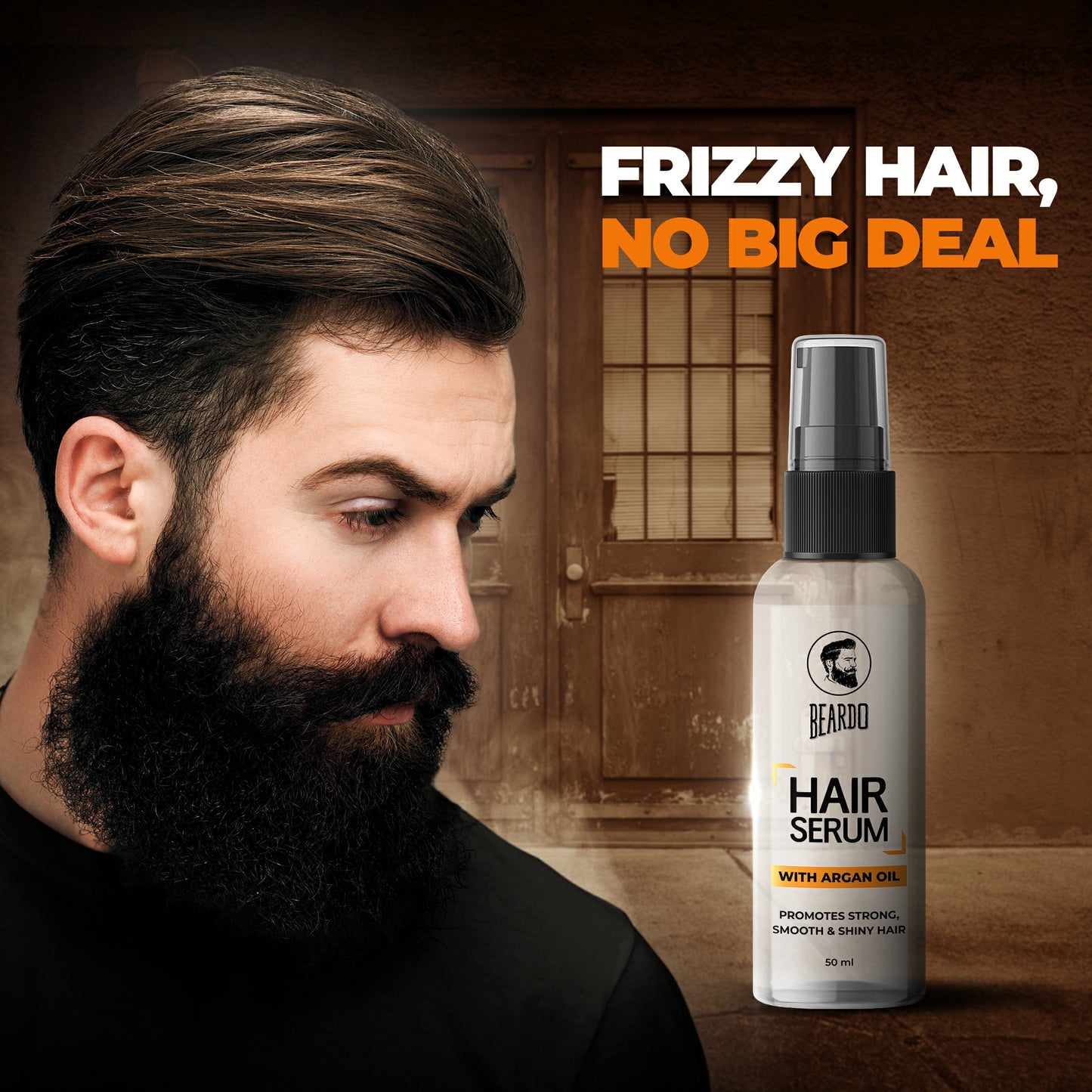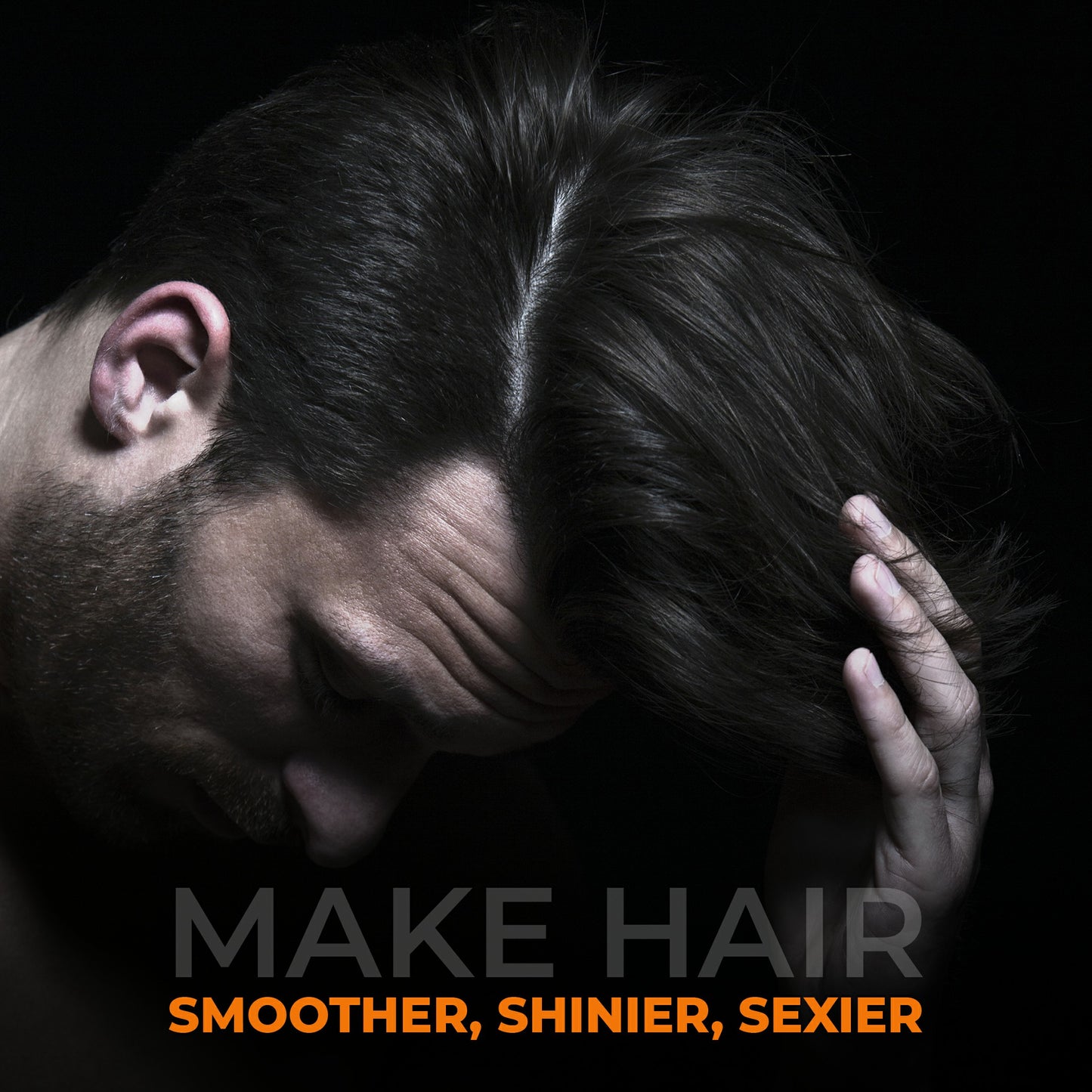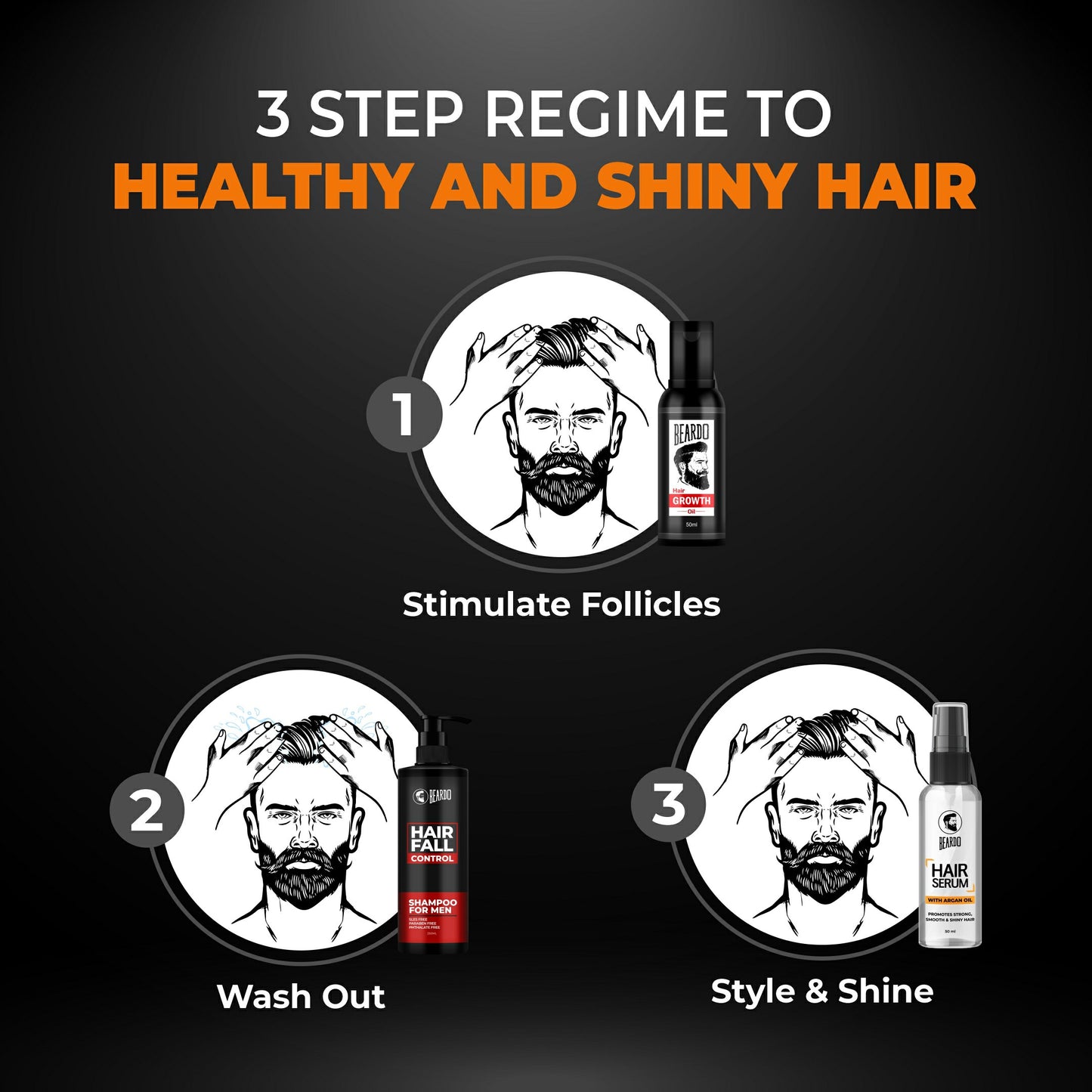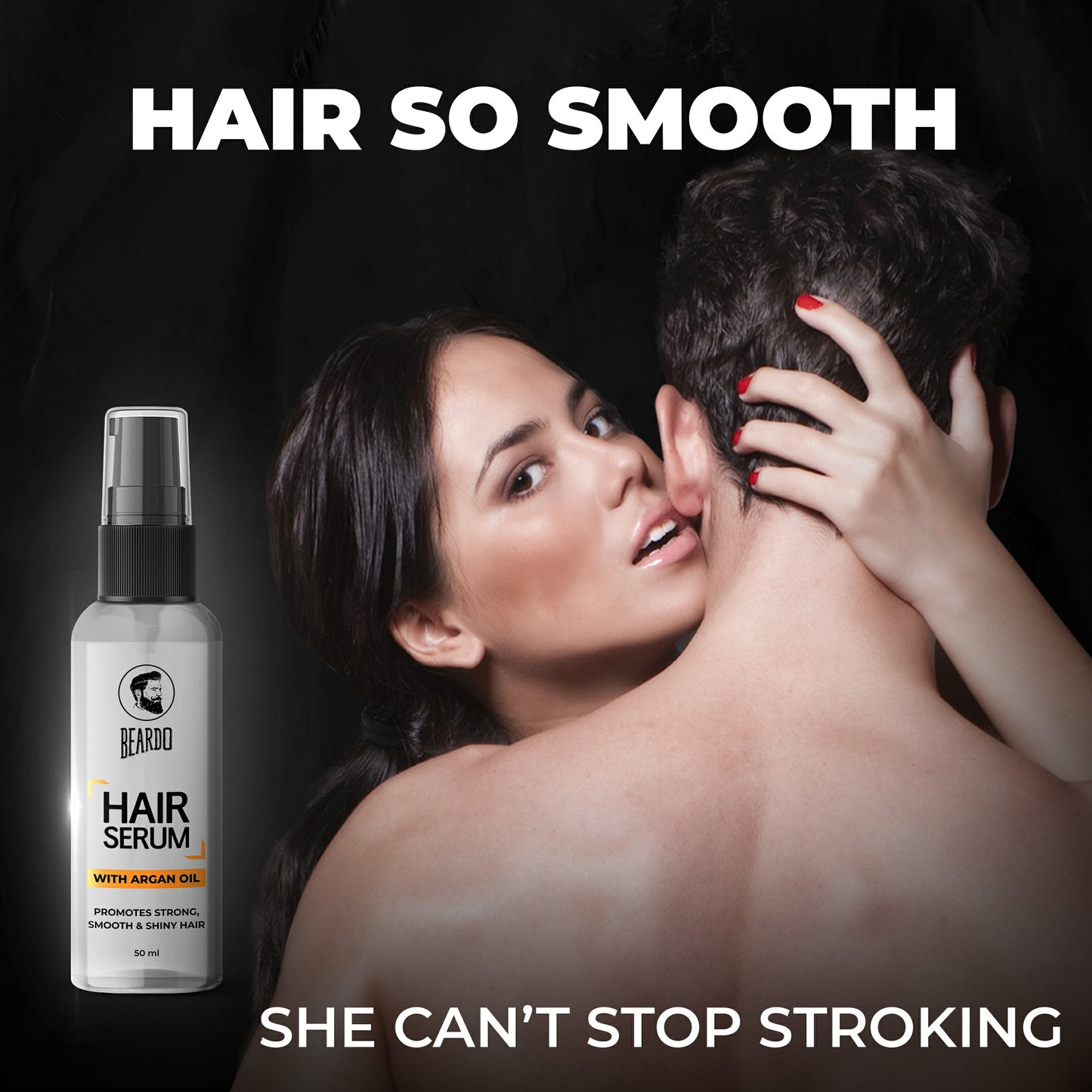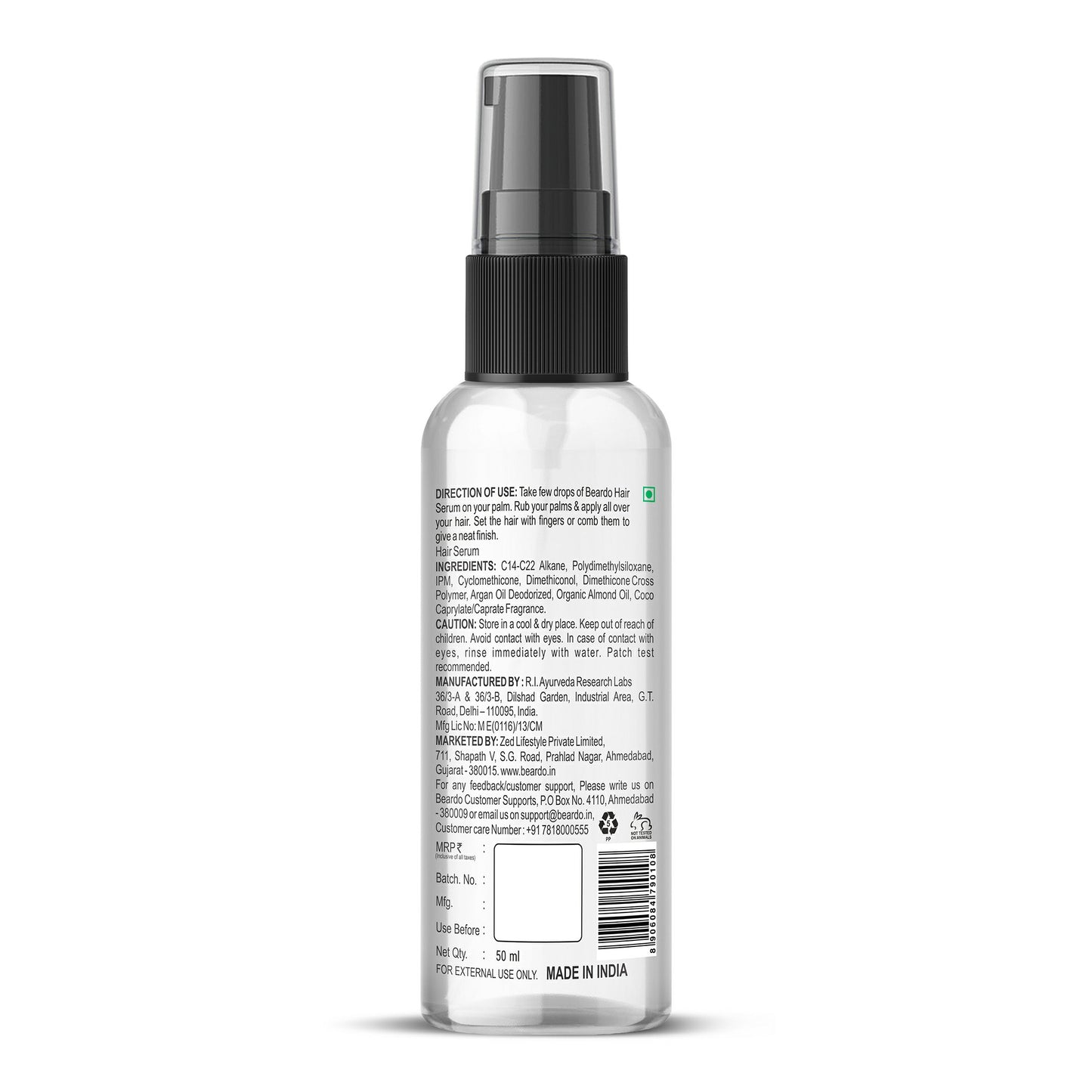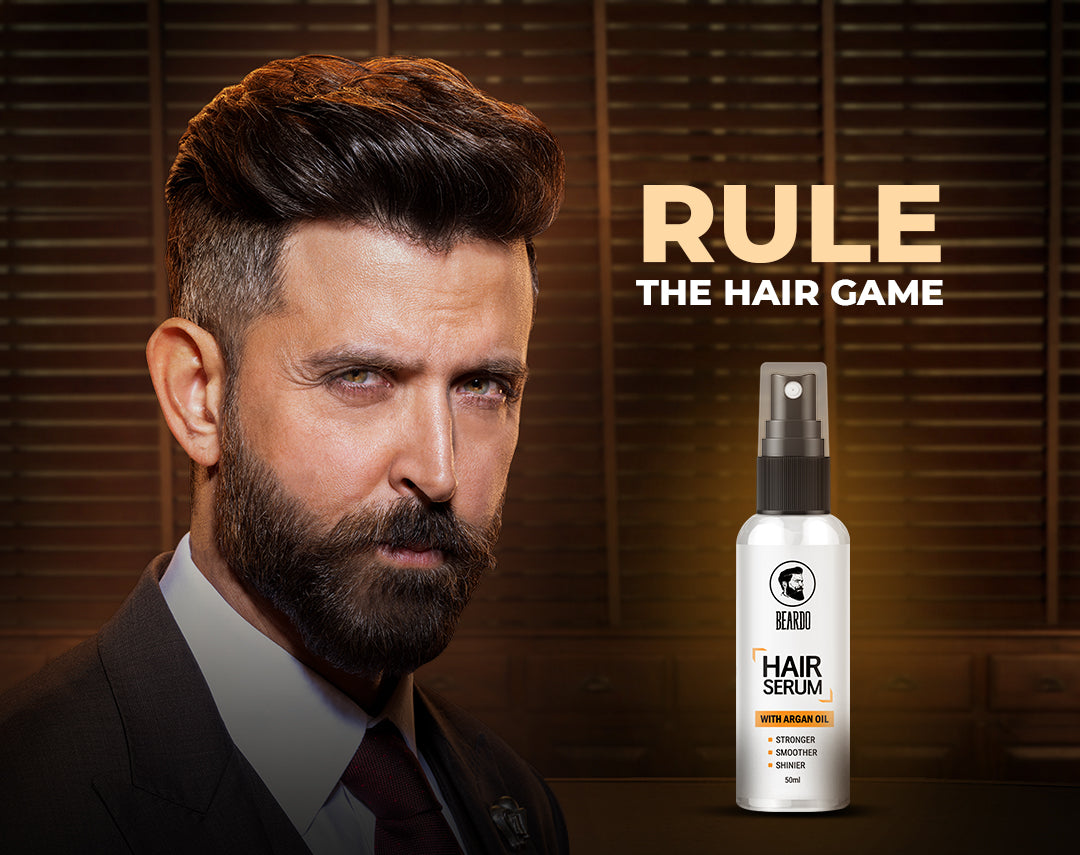 BEARDO HAIR SERUM
​NOURISHING ARGAN OIL: The power of Argan and Almond Oil helps nourish and moisturize your hair that stimulates thicker and fuller hair.​, SOFT SHINIER AND THICKER HAIR: Get that instant shine and long lasting softness without weighing the hair down. Rich in Vitamin E, argan oil supports the scalp​, TAME FRIZZ: Packed with a blend of essential oils that help prevent dryness and tames brittle and frizzy hair. For best results, use daily on damp or towel-dried hair​, and MADE JUST FOR YOU: Specially designed for men's hair and is suitable for colored, bleached, frizzy, fine, thick, thin, blonde, black or curly Hair​
Hair Serum Use
Revitalize your facial hair and enhance scalp growth with Beardo Beard and Hair Growth Oil. Use and leave it overnight to ensure all round care for your hair. ​, Step 2: Wash out the Beardo Hair & Beard Growth Oil with Beardo Hair Fall Control Shampoo. It is carefully formulated to nourish your hair and control hair fall with every single wash ​, Step 3: Deep-nourish your hair with Beardo Hair Serum. This magical hair serum makes sure your hair is always shining and smooth to the touch, while preventing graying!​, and It's time to give your personal grooming regime an all-round treatment!​
Product Information
Generic Name: Serum, Country of Origin: INDIA, Marketed by: Zed Lifestyle Pvt. Ltd., 711, Shapath V, S.G. Road, Prahlad Nagar, Ahmedabad, Gujarat – 380015, Manufacturer: RI Ayurveda Research Labs, 36/3-A & 36/3-B, Dilshad Garden, Industrial Area, G.T. Road, Delhi – 110095, INDIA, and Best Before: 24 months from date of manufacture