Eliminates dirt, oil & toxin
Unclogs skin pores
Deep cleanses skin
Lightens skin tone
Generic Name: Peel Off Mask
Country of Origin: INDIA
Marketed by: Zed Lifestyle Pvt. Ltd., 711, Shapath V, S.G. Road, Prahlad Nagar, Ahmedabad, Gujarat – 380015
Manufacturer:HCP Wellness Pvt Ltd Plot No.: 08, Ozone Industrial Park, Bavla - Bagodara Highway, Bhayla, Ahmedabad- 382220, Gujarat, India.
Best Before: 730 Days from date of manufacture
Check estimated delivery date
How To Use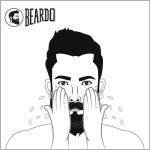 Cleanse
Clean your face with the Beardo Charcoal Soap to get all the dirt out. Scrub your face with Beardo Charcoal Face Scrub. Use plenty of water to clean your face and pat dry with a clean dry towel.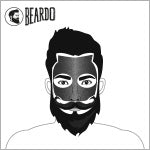 Apply
Take a blob of Beardo Activated Charcoal Peel Off Mask and apply it evenly on your face with upward strokes. Do not apply around the eyes or on lips. Leave the mask on for 15 minutes and let it dry.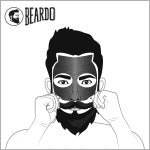 Peel
Touch the mask lightly to see if the layer is dry. In case it isn't let it dry for 1 or 2 minutes. Once dry, smile to loosen the mask and then gently peel the mask off from the edges. Clean the residue with a wet towel.
Admire
Once you remove the peel off mask, the difference will be unbelievable! No blackheads, no whiteheads, no oil, no dirt and no pollution! It's time for you to go out there and seize the day with your radiance!
Frequently Asked Questions
Does it remove pimples?
No. It will remove the dead cells, dirt, blackheads and other impurities from your skin.
Does it remove sun-tan?
By following a proper regime with face wash, scrub and peel-off mask, you can get rid of sun tan gradually.
Does it make you fair?
After regular use and following a proper face grooming regime, your skin will become clearer and have a healthy glow.
Can it be used by women?
Yes! It can be used by both the sexes.
Does it remove facial hair like around forehead and eyebrows?
No, this mask is formulated to remove dirt, dead cells and blackheads from your skin.
INGREDIENTS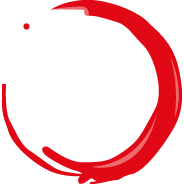 Glycerin
- Excellent cleanser & toner - Great skin moisturizer - Cures itchy skin - Removes blackheads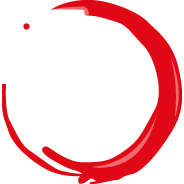 Activated Charcoal
- Removes dirt & oil - Cleanses skin pores - Removes toxins - Fights body odor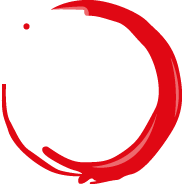 Aqua
- Cleans impurities - Retains moisture - Refines skin texture - Gives radiant glow
View full details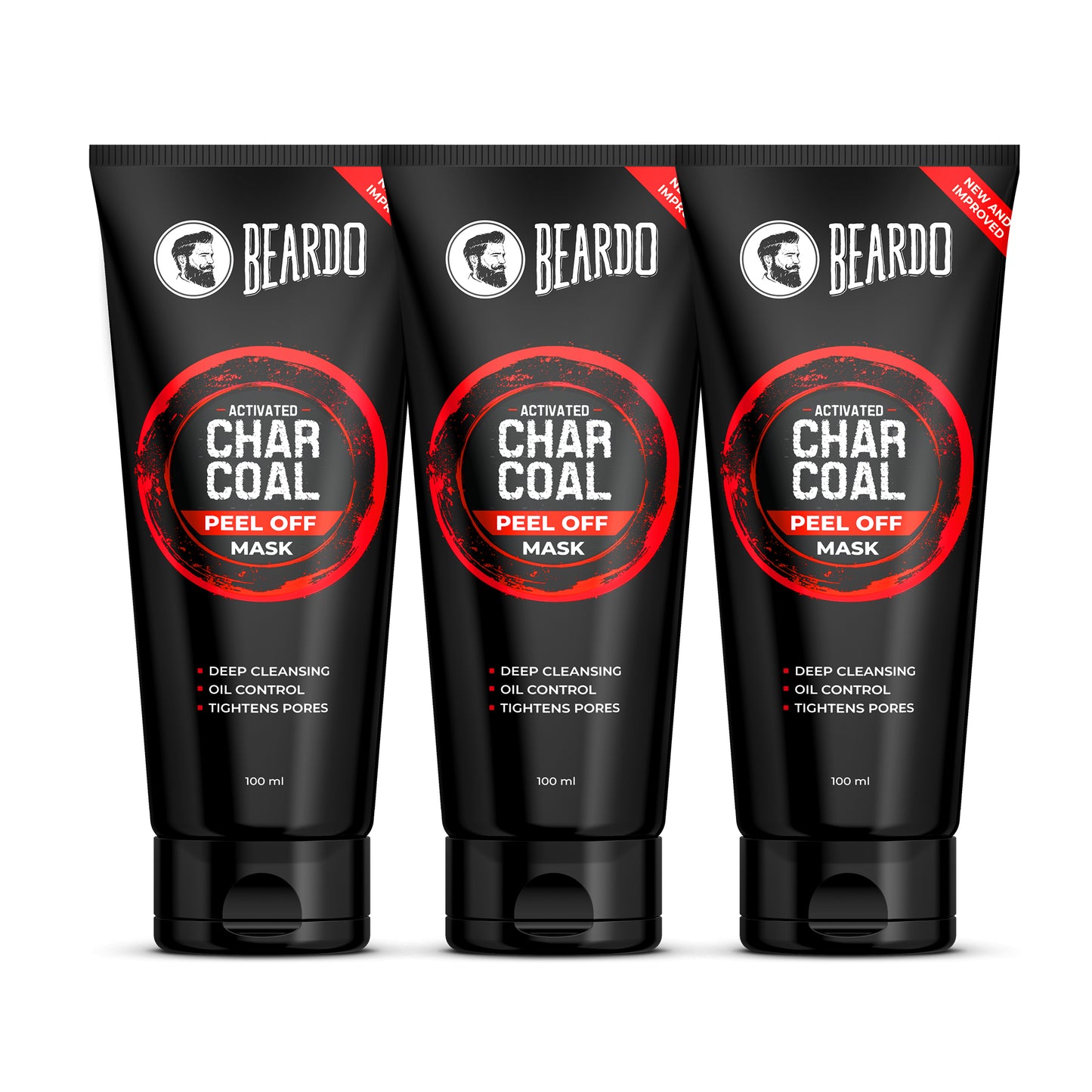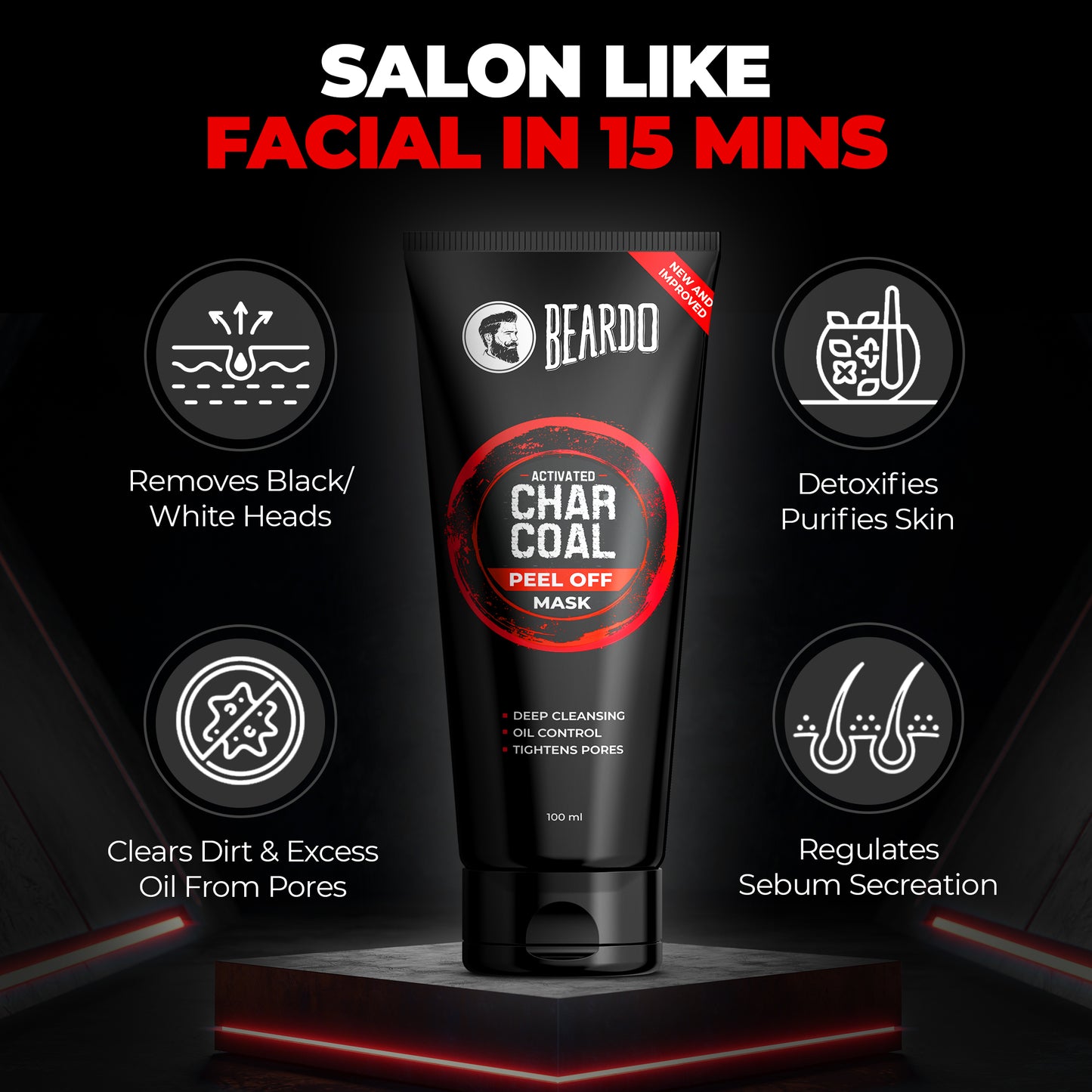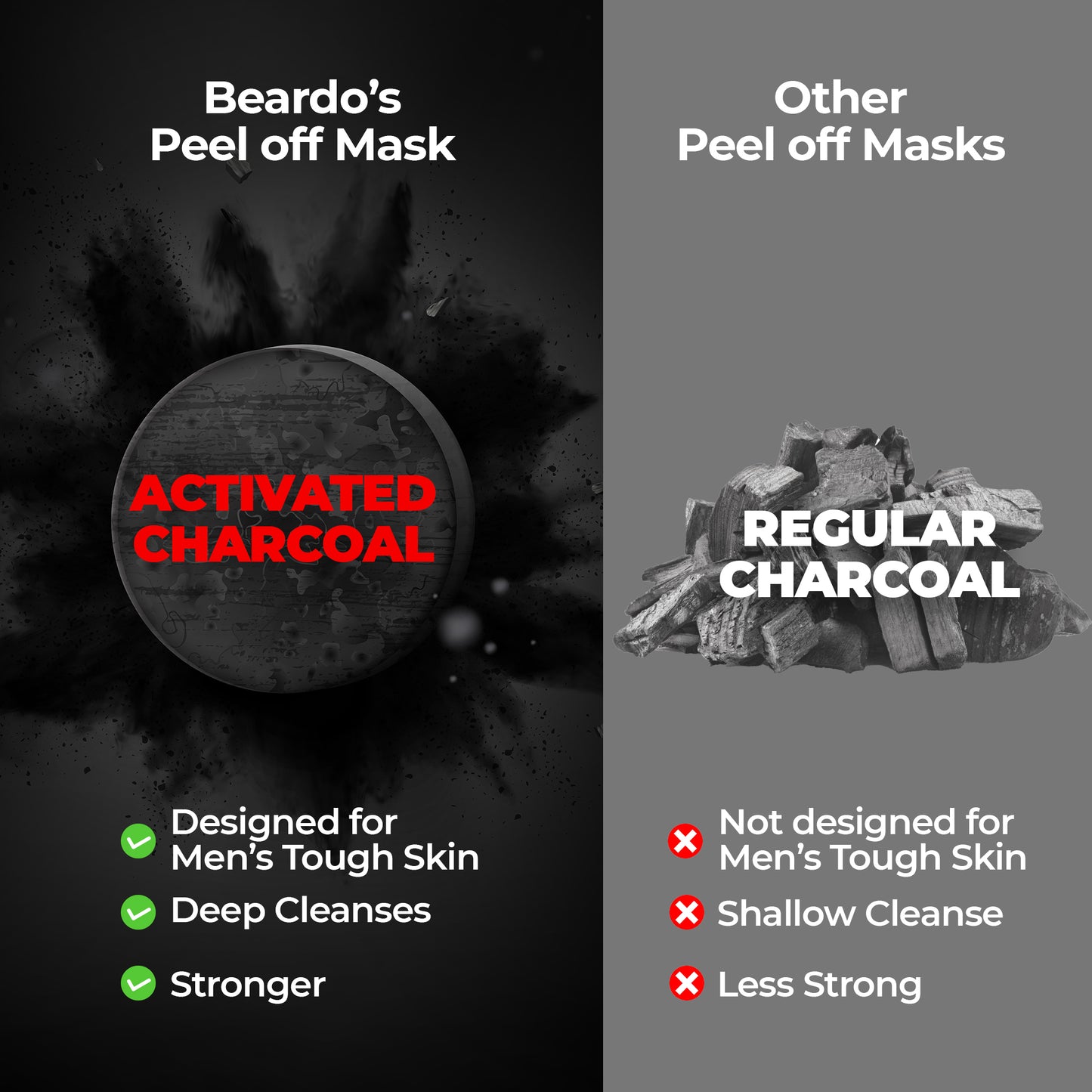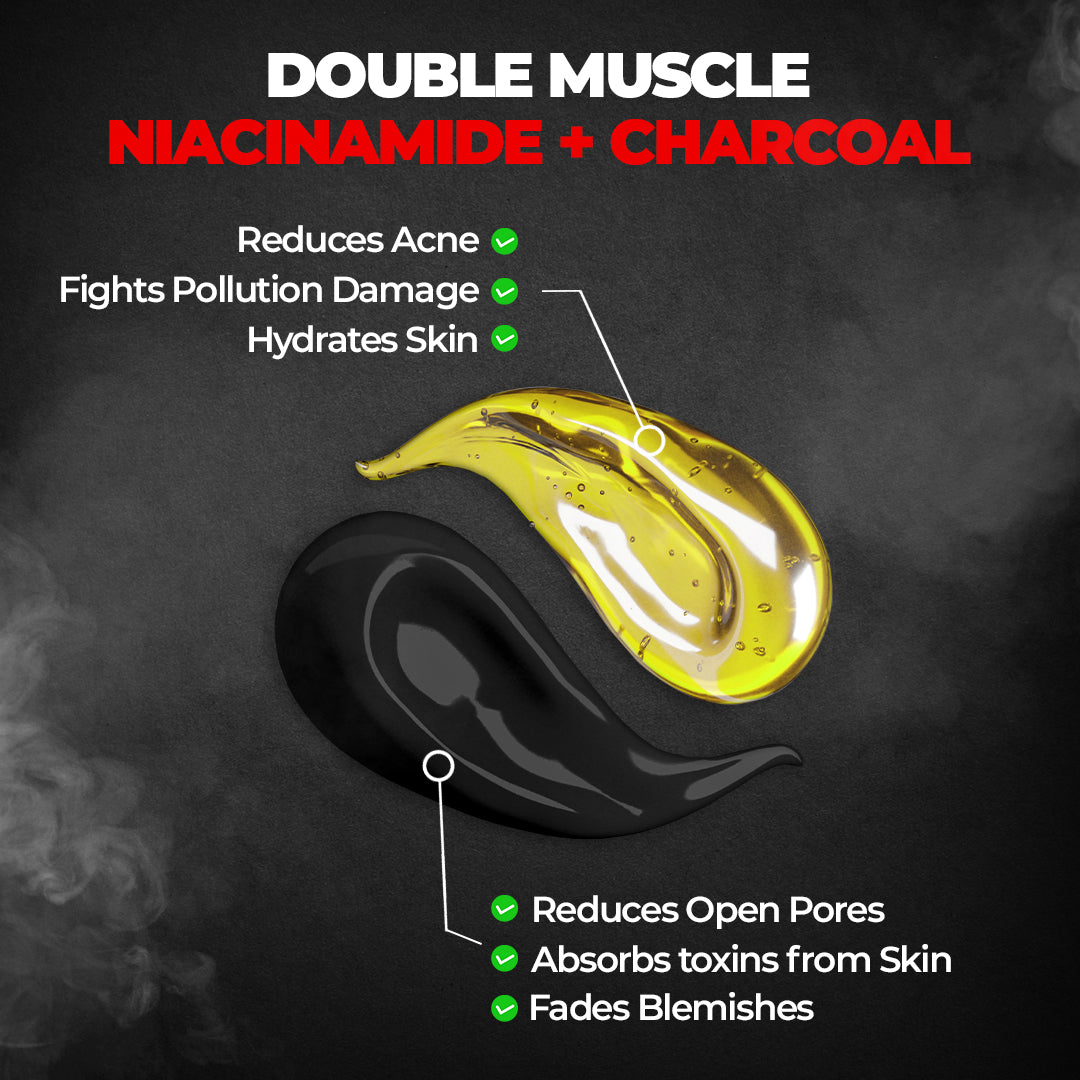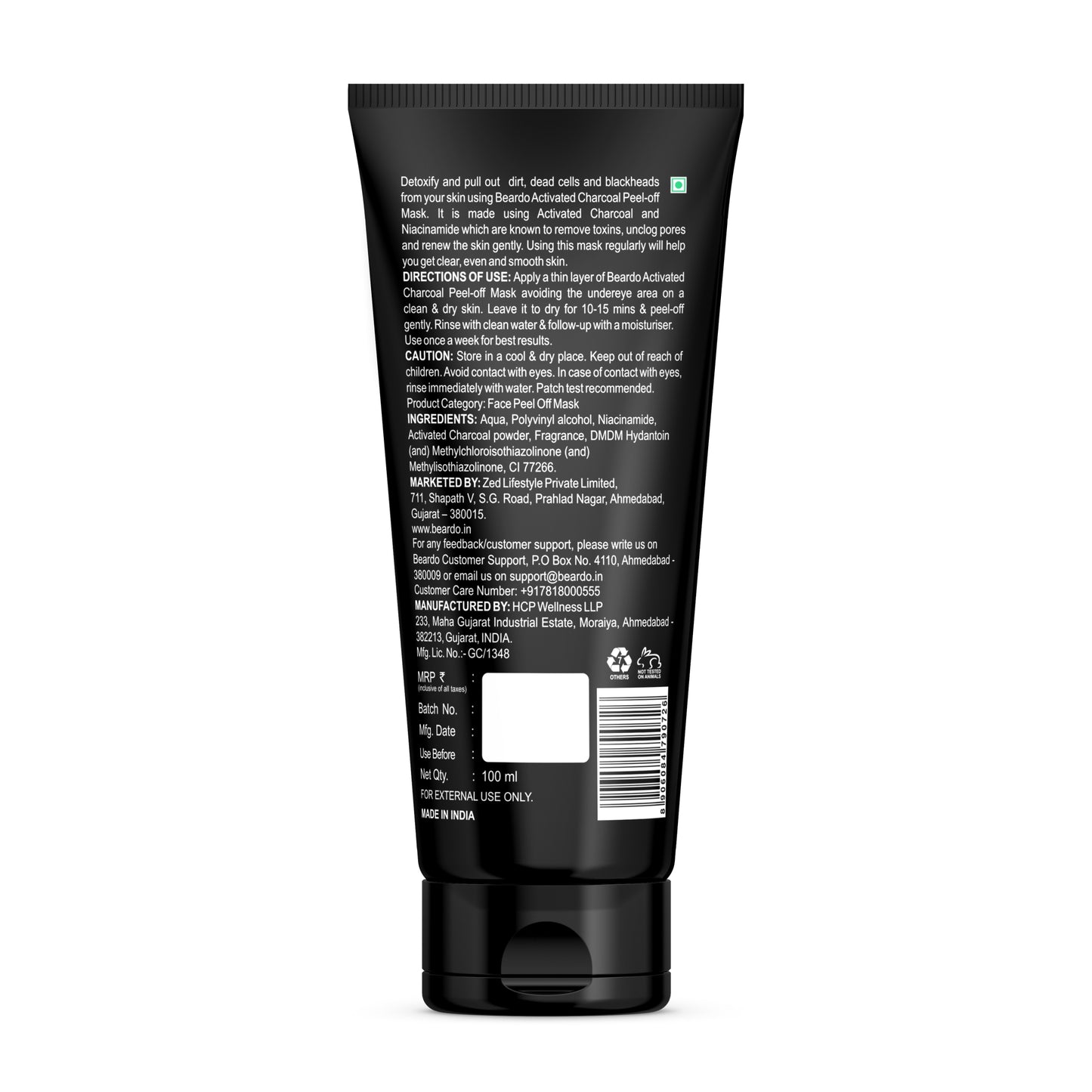 The Perfect Beardo Peels to Appeal
Every wondered what that black paste is that women apply on their faces and then instantly look prettier? Ever wondered if they make that black mask for men's faces too? Dear Beardos, that black face mask is called a Charcoal Face Mask. Wait, do you think that charcoal is only good for barbecues? You may want to double check your facts! Charcoal has made its way to being the showstopper of all effective men's grooming products and how! Beardo Activated Charcoal Peel Off Mask works like an oil and dirt magnet on your skin; pulling out all impurities within minutes! Beardo's deadly combination of charcoal, glycerin and aqua help peel all your facial skin woes off to leave you with naturally rejuvenated younger-looking skin!
The Best Men's Peel Off Face Mask
Dynamic in nature and by design, the Beardo peel off face mask perfectly peels away debris off your skin. Pimples, blackheads, whiteheads, oil, dirt, toxins – the Activated Charcoal Peel Off Mask turns all skin problems into urban legends! It provides you with spa-like rejuvenation at home! While charcoal gently exfoliates your skin, the aqua and glycerin content keep the natural moisture of your skin intact. This mask is your perfect companion for a day filled with relaxation!
Steer Clear of Your Skin Woes
After having successfully used as an active ingredient in our Activated Charcoal Brick Soap and Activated Charcoal Face Scrub, we now introduce the Beardo Activated Charcoal Peel Off Mask to complete the triad! Taming your beard, styling your hair and pampering your skin are now concerns that are all just a click away with Beardo! Start shopping today from our range of men's grooming products and get yourself some the manly love you deserve!
Product Information
Generic Name: Face Mask, Country of Origin: INDIA, Marketed by: Zed Lifestyle Pvt. Ltd., 711, Shapath V, S.G. Road, Prahlad Nagar, Ahmedabad, Gujarat – 380015, Manufacturer: HCP Wellness LLP, 233, Maha Gujarat Industrial Estate, Opp. Mangalam Packaging, Moraiya- 382213, Gujarat, India, and Best Before: 24 months from date of manufacture