Regular price
M.R.P
₹999
Sale price
₹799
Unit price
per
(Inclusive of all taxes)
21%

OFF
5X Formula for New Hair Cells Growth
Award winning ingredient
Stem Cell activation​
Scientifically Proven Results
 
Micellar Root deep penetration
​
Generic Name: Hair Vitalizer
Country of Origin: INDIA
Marketed by: Zed Lifestyle Pvt. Ltd., 711, Shapath V, S.G. Road, Prahlad Nagar, Ahmedabad, Gujarat – 380015
Manufacturer:M/s. Calistta Health Care 74 & 75, Gate No.- 3, Ganesh Industrial Estate, Satyam Arcade Lane, Vill.- Moraiya, Changodar, Ahmedabad, Gujarat
Best Before: 730 Days from date of manufacture
Check estimated delivery date
Frequently Asked Questions
What is Beardo Hair Growth Vitalizer?
Beardo Hair Growth Vitalizer is a product designed to promote healthy hair growth and nourish the hair follicles. It is formulated with natural ingredients that aim to strengthen the hair, reduce hair fall, and improve overall hair health.
How does the Hair Growth Vitalizer work?
The Hair Growth Vitalizer from Beardo works by providing essential nutrients to the hair follicles, promoting blood circulation in the scalp, and strengthening the hair roots. This helps stimulate hair growth, reduce hair fall, and improve the overall quality of the hair.
What are the key ingredients of Beardo Hair Growth Vitalizer?
The Hair Growth Vitalizer contains a blend of award-winning ingredient known for their hair-nourishing properties, such as biotin, caffeine, redensyl, kopexil, onion EGCG complex, and other natural extracts.
How often should I use the Hair Growth Vitalizer?
For best results, it is recommended to use the Hair Growth Vitalizer regularly. Apply it to your scalp and massage gently. The exact frequency may vary, but it is usually suggested to use it at least once a day.
Will the Hair Growth Vitalizer work on bald spots or receding hairlines?
The effectiveness of the Hair Growth Vitalizer may vary from person to person. While it is designed to stimulate hair growth and strengthen hair follicles, individual results may vary. It may be more effective in cases of thinning hair or early stages of hair loss rather than complete baldness.
Can I use the Hair Growth Vitalizer along with other hair care products?
Yes, the Hair Growth Vitalizer can generally be used alongside other hair care products such as shampoos, conditioners, and styling products.
View full details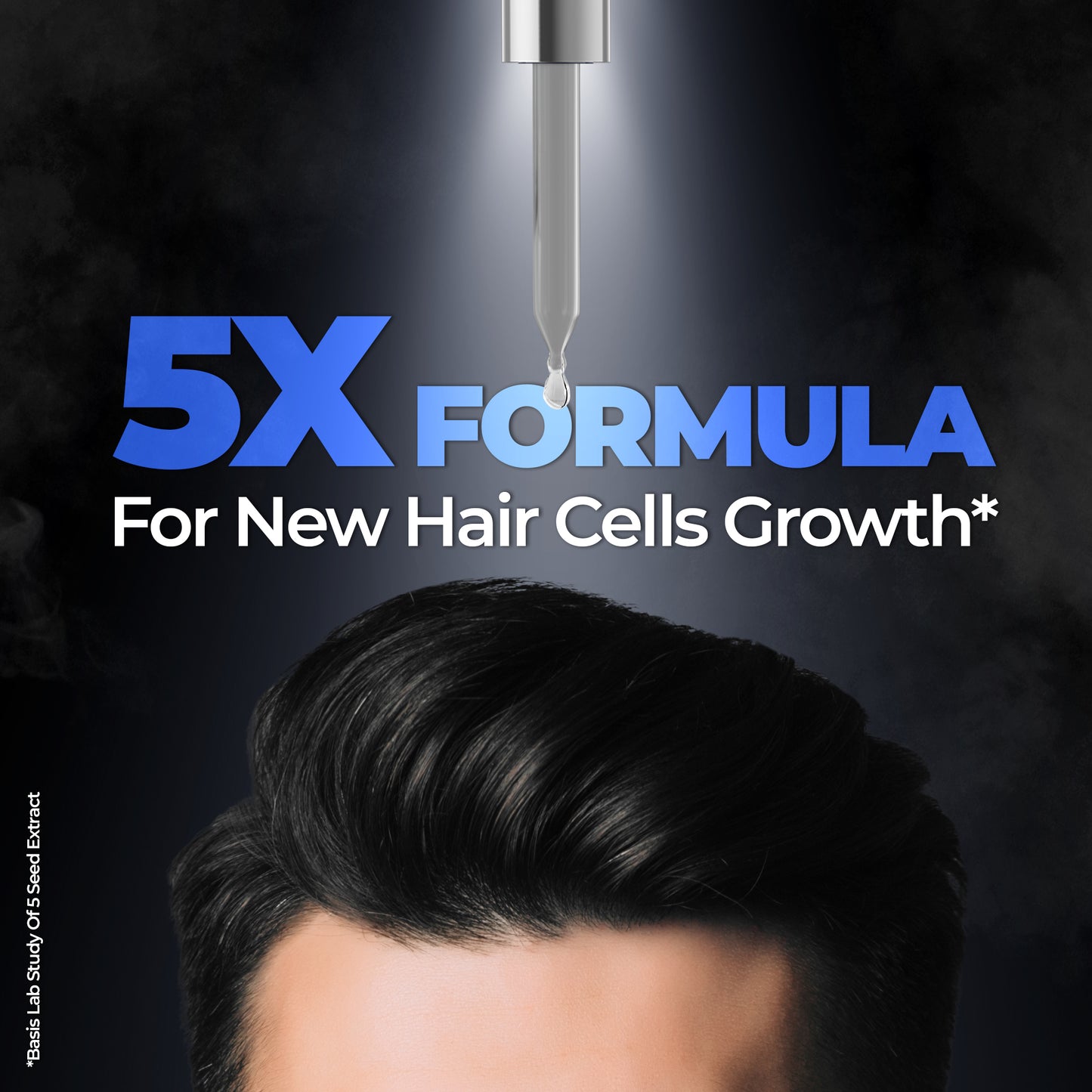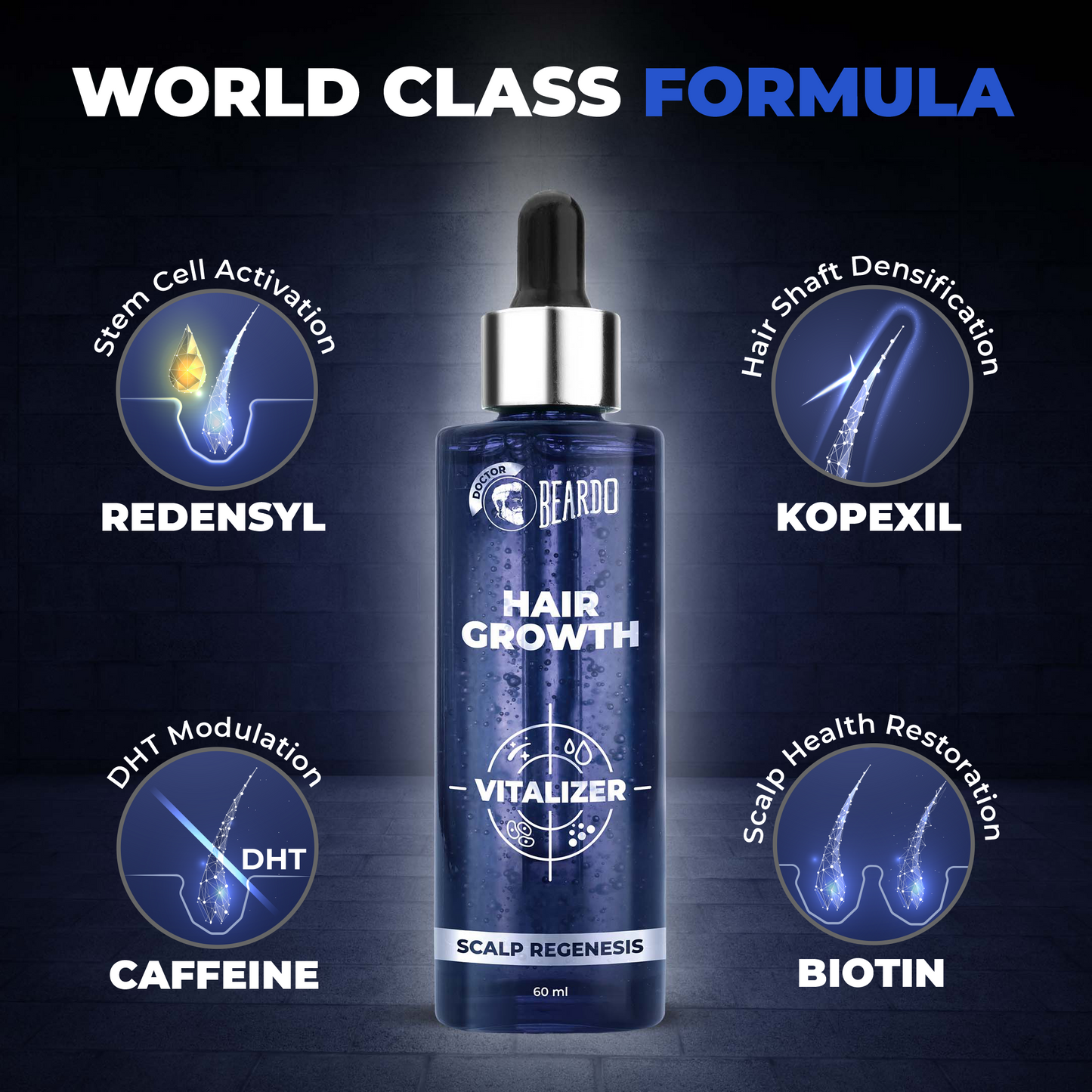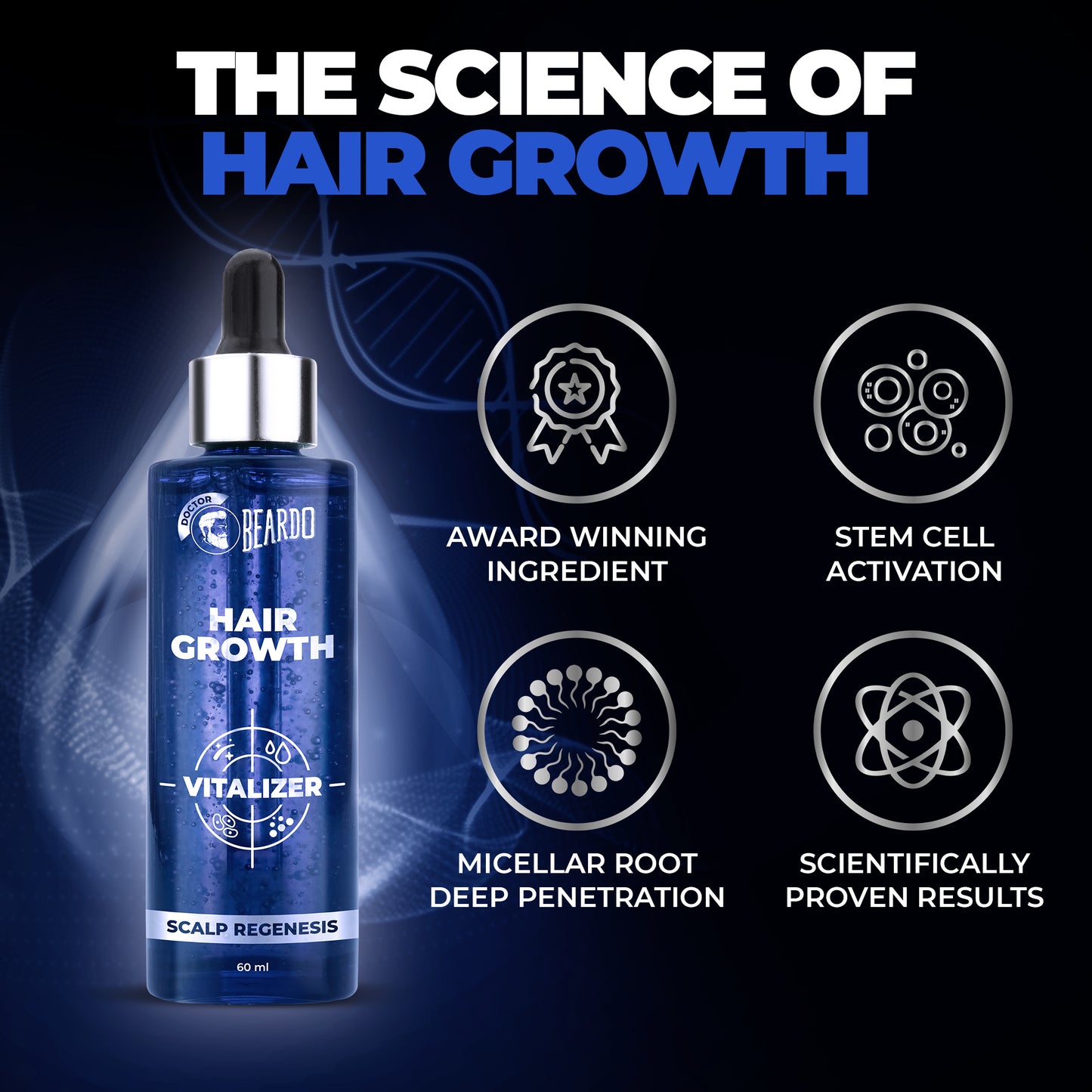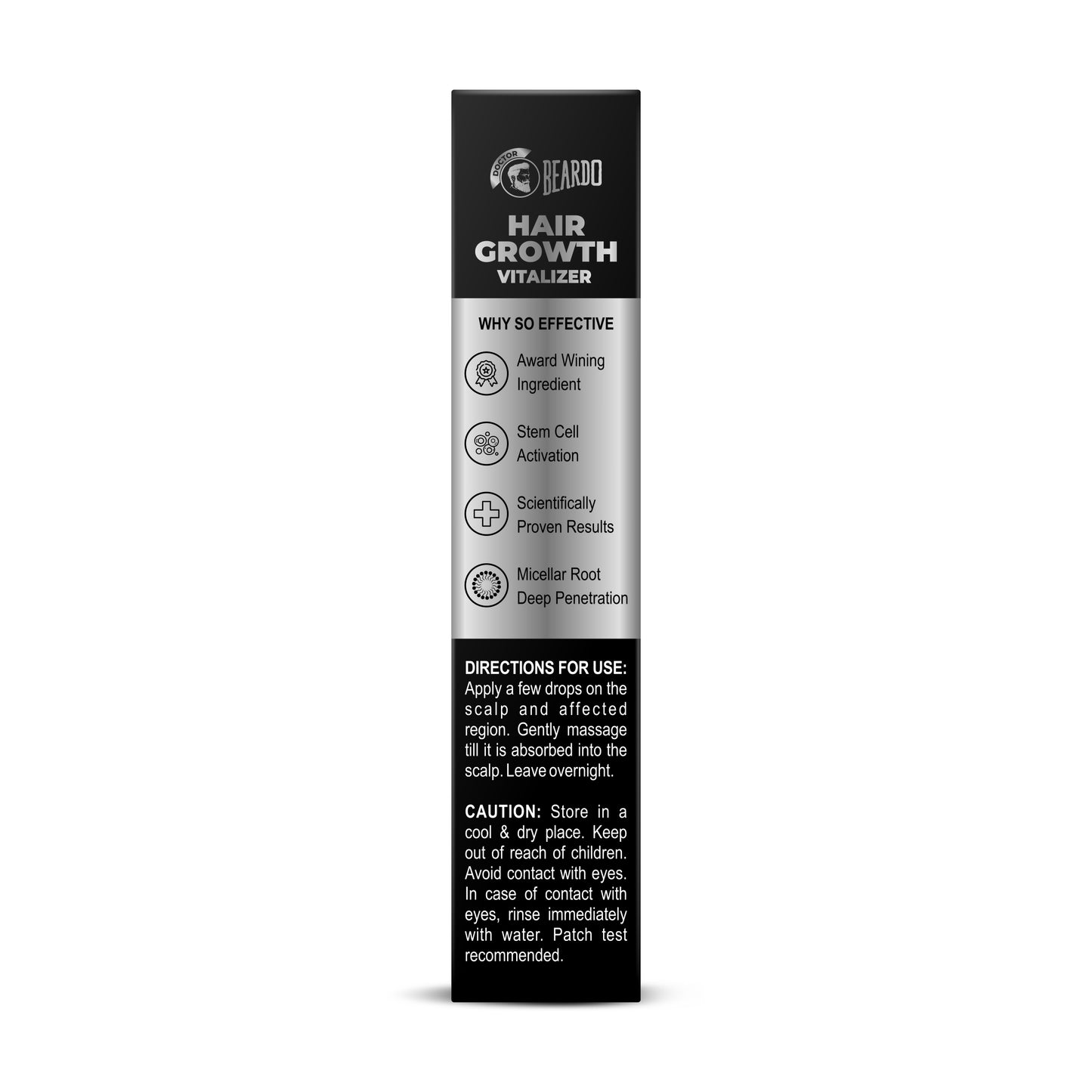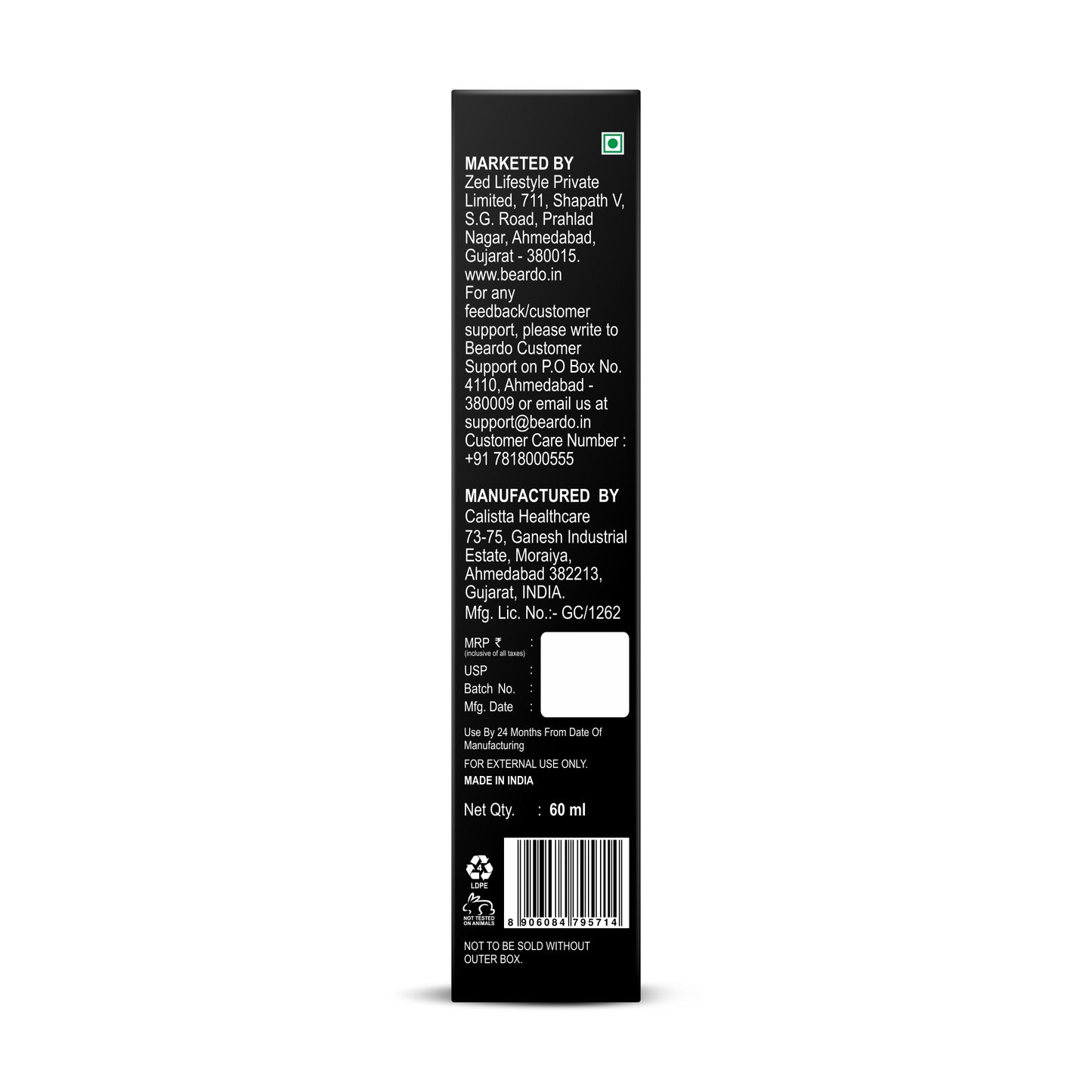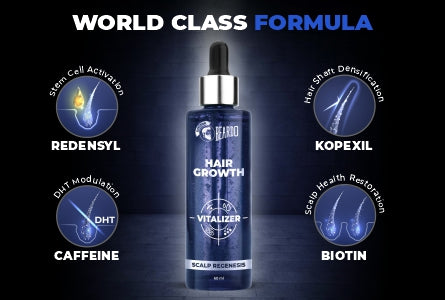 MOST ADVANCED HAIR GROWTH INGREDIENTS
You need more than just hair oil for hair fall and regrowth. Introducing the Beardo Hair Growth Vitalizer made with award-winning active like Redensyl, Kopexil, ECGC Complex, Biotin and Caffeine that help strengthen your hair from the roots, prevent hair fall & reactivate hair follicles to give you thicker fuller hair ​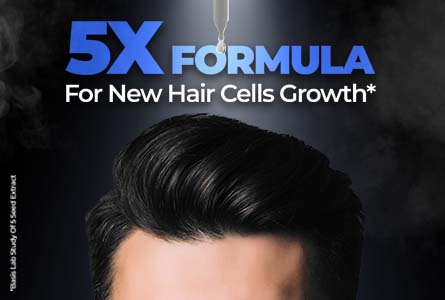 SCIENTIFICALLY PROVEN RESULTS
With the power of 5 Seed Extracts, that's scientifically proven to help activate new hair cells for thicker, fuller and stronger hair.​
HEALTHIER SCALP = HEALTHIER HAIR:
Infused with Biotin which improves the structure of keratin, for improved hair & Scalp health. It helps strengthen the hair while providing a conducive environment for hair regrowth. Beardo's Hair Growth Vitalizer has no sulphate, no paraben and no phthalates. It is safe for all hair types.​
Root Deep Penetration
Formulated with Micellar Technology that allows for deeper penetration and absorption of these world-class actives. It also allows for easy delivery of water-soluble micronutrients to the scalp.​